PROTECTING YOU THROUGHOUT YOUR LIFE'S JOURNEYS AND ADVENTURES
Now you can enjoy life's adventures with added confidence. With simple, affordable and on-demand insurance protection plans that help you quickly get back on your feet after any inconveniences. We make it easy for you to understand what you need, get only what you need, when you need it the most. With just a few clicks, you can now protect yourself and all that you love the most.
ABOUT US
At Tune Protect, we believe that everyone deserves to be protected. We aim to provide our customers with the added confidence to enjoy life's adventures, knowing that they and the ones they love the most are well protected.
Since our inception in 2011, we are committed to delivering an excellent customer experience through our understanding of our customers who are increasingly looking for simplicity and convenience when it comes to insurance coverage. Our straightforward and affordable protection products are all easily accessible through the convenience of digital channels.
We offer a range of tailored non-life insurance coverage products that are relevant to the needs of our customers in today's world that include protection for travel, accidents, theft or unforeseen calamities, among others. We make our products simple and straight-to-the-point so that our customers can pick and choose the right plans for them, when they need it the most. And most importantly, we make it easier for our customers to understand what they get, and simplify the process to get it. They can now apply and claim for protection through our user-friendly digital channels, anytime, anywhere.
Through our strategy of simplifying and creating a more efficient means of access and engagement through digital channels, we are able to provide our customers products and services that are fully relevant to their needs. We remain committed to be there for our customers, our employees, our partners and our stakeholders for the long-term.
HISTORY
Sep
2015
Tune Ins Holdings Berhad rebranded to Tune Protect Group Berhad
May
2014
Acquired 49% equity interest in an associate company in Thailand - Tune Insurance Public Company Limited ("TIPCL").
Mar
2014
Entered the Middle East with a Joint Venture Agreement with Cozmo Travel LLC ("Cozmo Travel") and set-up Tune Protect Commercial Brokerage LLC ("TPCB")
Feb
2013
TIH was listed on the main market of Bursa Malaysia with a market capital of RM1 billion.
Sep
2012
Tune Insurance brand was launched
May
2012
TIH acquired Oriental Capital Assurance Berhad (OCA). OCA was renamed Tune Insurance Malaysia Berhad (TIMB) on 21 September 2012.
Oct
2011
TIH acquired TIL, TMGR and TMLR from TMSB to consolidate insurance business.
Aug
2011
TIH was converted to a public company and assumed present name of Tune Ins Holdings Berhad.
June
2011
Incorporation of Tune Ins Holdings Sdn Bhd (TIH) as a private limited company.
Apr
2011
Tune Money Life Re Ltd (TMLR) was incorporated as a wholly owned subsidiary of Tune Money Sdn Bhd (TMSB) and in June 2011, obtained license to carry on Labuan life reinsurance business.
Feb
2011
Tune Money GenRe Ltd (TMGR) was incorporated as a wholly owned subsidiary of Tune Money Sdn Bhd (TMSB) and in May 2011, obtained license to carry on Labuan general reinsurance business.
Mar
2009
Tune Insurance (Labuan) Ltd. (TIL) was incorporated and in April was licensed to operate as an offshore captive insurer in Labuan.
OUR LEADERS
OUR DIRECTORS
GROUP MANAGEMENT
Khoo Ai Lin
Group Chief Executive Officer
Khoo Ai Lin was appointed as the Chief Executive Officer (CEO) of Tune Protect Group Berhad (TPGB) on 14 January 2019. Prior to the appointment, she was the Chief Executive Officer (CEO) of Tune Protect Malaysia (TPM), a subsidiary of the Group from 2 August 2017.
With more than 20 years of experience in the financial services industry, Ai Lin's portfolio spans across key roles in partnerships, distribution, bancassurance, business development and affinity business within the life, general and composite insurance sectors.
A well-established thought leader and partner in the Malaysian insurance industry, Ai Lin was the Chief Marketing Officer at a multinational insurance company prior to joining the Group. Ai Lin is a graduate of La Trobe University, Australia and holds a Bachelor's degree in Economics, majoring in Banking and Finance. She is currently also a Director of Tune Protect Re Ltd., Tune Protect Malaysia, Tune Protect Thailand and Tune Protect EMEIA.
How Kim Lian
Chief Financial Officer
How Kim Lian ("How") joined the Group on 4 May 2020. As Chief Financial Officer, he is responsible to review and establish key financial strategies in aligning to the Group's Corporate Strategy by evaluating financial operational trends, measurements and productivity levels, aside to looking at acquisition and expansion prospects, identifying areas for improvement and accumulating capital to fund expansion.
He has over 20 years of senior management experience, including a decade of strategic development and execution planning in Finance Transformation, Programme Management, Enterprise Performance Management and Investor Relations. Started his career in Arthur Andersen, he transitioned to PricewaterhouseCoopers and most recently as the Group Deputy Chief Financial Officer of AirAsia prior to joining the Group.
How is a Member of the Australian Society of CPAs (ASCPA), Malaysian Institute of Accountants (MIA), the Institute of Internal Auditors (IIA) and a Certified Internal Auditor (CIA).
Prasanta Roy
Chief Digital Transformation Officer
Prasanta Roy ("Prasanta") joined the Group as Chief Digital Transformation Officer on 29 April 2020. He is responsible to conceptualise and implement the digital vision and strategy with the aim of realising a winning business model and creating exceptional customers' experience, while driving organisational growth, performance and profitability for all lines of businesses across the Group.
He has over 20 years' experience in leveraging technology to drive organisational growth and expanding business impact in the era of digitisation, holding various leadership roles in IT Strategy & Architecture and IT Transformation spanning across companies in Malaysia, Africa, India, North and Latin America. Prior to joining Tune Protect Group, Prasanta was most recently attached to Axiata as the Vice President & Group Head IT Strategy and Architecture. His expansive experience included stints in Ericsson, Vodafone, Idea Cellular and Ushacommunications Technologies.
Prasanta is a graduate of the Manipal University, India with an MBA in Information Technology.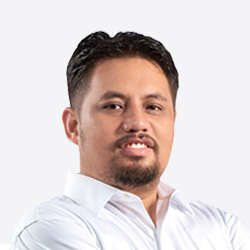 Mohd Yusof Hafiz Mohamad
Chief – Government & Regulatory Affairs
Mohd Yusof joined us on 1 March 2019 as our Chief – Government & Regulatory Affairs to ensure sustainability of the Group's revenue streams globally from a legal and regulatory perspective while supporting the implementation of regulatory policies across the Group. He will also have oversight over Legal and Company Secretarial functions whilst supporting effective corporate governance across the Group.
Yusof spent 6 years with Central Bank of Malaysia's Insurance & Takaful Supervision team, and since then have been exposed to roles in compliance, data science consultancy, and capital and credit risk management. Prior to joining us, he was in a Consultancy role for the Group from September 2018 and was also working for an analytics consultancy firm based in Indonesia .
Yusof is a graduate in Bachelor of Science in Actuarial Science (Hons.) from the London School of Economics, UK.
Koot Chiew Ling
Chief - Corporate Development &
Investor Relations
She was appointed Head of Corporate Development & Strategy on 10 February 2014 overseeing three core areas – Corporate Strategy, Investor Relations and Programme Management Office. She is primarily responsible for leading the Group's strategic initiatives and key projects as well as engaging analysts and investors alike. She is a Director of Tune Direct (M) Sdn Bhd.
She has more than 20 years' experience in areas of business development, product development and corporate planning. Prior to this, she served local and regional capacities in major financial services institutions such as AIG and Etiqa. In CIMB, she was part of the pioneer team instrumental in the setup of the bancassurance partnership in Indonesia.
She graduated from Curtin University of Technology, Australia with a degree in Commerce.
Yap Hsu Yi
Chief - People & Culture
She joined the Group as Head of People and Culture on 4 May 2016. She has the responsibility for defining and leading the people strategy of the Group to create a distinctive culture that separates the Group from industry peers. She is a member of the Employees' Share Option Scheme Committee.
Hsu Yi has more than 15 years' experience working across various industries. Prior to this, she served companies such as Arthur Andersen, PWC, Mercer Consulting, Telenor and PepsiCo.
She graduated from Monash University, Australia with a degree in Commerce majoring in Accounting and Finance. She is a recipient of many internal and external awards for outstanding achievements in human resources.
Group Structure
Shareholdings as at 30th April 2019
Notes:
Shareholders: Tan Sri Dr. Anthony Francis Fernandes (50%) and Datuk Kamarudin Bin Meranun (50%)
The remaining 16.7% is owned by minority and unrelated shareholders
The remaining 51% is owned by various Thai shareholders
The remaining 51% is owned by a local company in United Arab Emirates
* Approval obtained in relation to the establishment of Retakaful window within Tune Protect Re Ltd according to Bursa announcement dated 4 May 2017